Shepheard's Tavern, birthplace of the Mother Supreme Council, corner of Church and Broad streets, by Allyn Cox, 1959. Courtesy of the Scottish Rite Temple, Washington, D.C.
Mapping Jewish Charleston: 1788
By 1788, Jews had been a presence in Charleston for nearly 100 years.
Settled as an English colony in 1670, Charles Town (as it was originally spelled) was the capital of colonial South Carolina.
By 1680 the settlement had moved to its current location between the Cooper and Ashley Rivers, and by the 1690s had attracted its first Jewish residents. They were mostly Sephardic, of Spanish/Portuguese extraction and tradition, with some Ashkenazim—Jews of German descent—among them. The Carolina colony welcomed people of all religions except for Catholics, who were suspected of loyalty to the Pope and allegiance to England's enemies, France and Spain, which occupied nearby Florida. In 1697, four Jewish men were naturalized (that is, given citizenship) along with sixty-five French Protestants; Jews voted in colonial elections as early as 1701; and, in 1774, London-born Francis Salvador was elected to Carolina's provincial congress, the first professing Jew elected to public office in North America. During the American Revolution, Jewish loyalties were divided, the majority tending, however, to side with the Patriots.
The first congregation in town and one of the first five in North America, Kahal Kadosh Beth Elohim (KKBE), Holy Congregation House of God, was organized in 1749, and followed the Sephardic minhag, or liturgy. The place of worship was moved from a building near the corner of today's State and Queen Streets, to King near Hasell Street. In 1794, a permanent building was erected on Hasell, east of King; its dedication was attended by civil, military, religious, and political figures of the city and state, as well as the general public. A burial ground on Coming Street had been conveyed to the congregation in 1764 by Isaac DaCosta.
Go to Map locations page.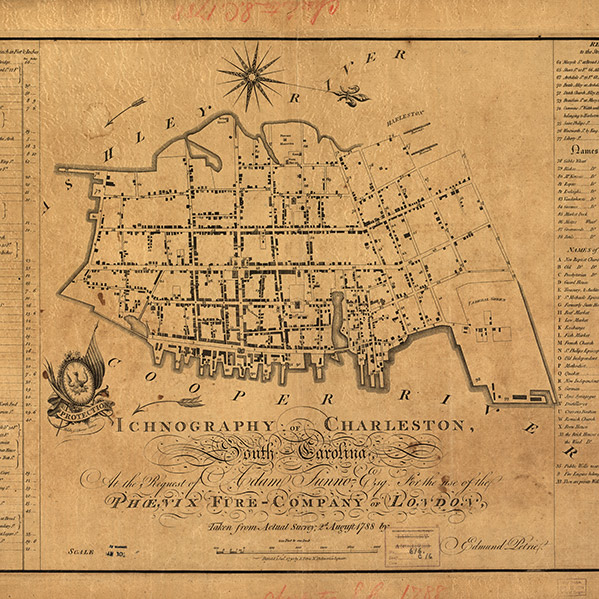 Circa 1788
Map of Charleston, South Carolina, published in 1788 by Edmund Petrie for the Phoenix Fire-Company of London. Courtesy of the Library of Congress.